Plasma Catastrophist Geology
Posted on July 15th, 2015
Update: On July 21, 2015, Michael passed away. RIP Michael, we will miss you dearly.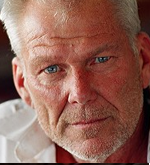 For several years, Michael Steinbacher has studied the geological formations of the American Southwest in the field. He has compared the standard explanations and alternative explanations with what he sees and has noted correspondences and anomalies. The context of his study is the physical interpretation of globally occurring themes of ancient legends and art, the observed properties of plasma behavior in laboratory settings, and a plasma-catastrophist theory of the recent geological history of the Earth.

Michael Steinbacher is a professional journalistic and artistic photographer. He has been photo editor for The Trentonian (Trenton, NJ) and staff photographer for the Miami Herald and the Daily Breeze (Los Angeles). Early in his career he became interested in Immanuel Velikovsky's contention that myths were evidence of global catastrophes. The advent of plasma theories sparked his interest in field-testing the implications of catastrophist models: Could observations of actual formations sustain such an interpretation and how might they modify it?
Posted in
Science
Tagged with Electric Universe, Plasma, Geology